Experience the ultimate adventure with Breathtaking Nature, Wildlife and Cave Church Tour, the most sought-after tour among travelers. Its immense popularity has resulted in tickets being sold out in no time. To ensure your spot on this incredible journey, it's highly recommended to book in advance. Breathtaking Nature, Wildlife and Cave Church Tour is Most Recomended Things to do in Cave Church, Ethiopia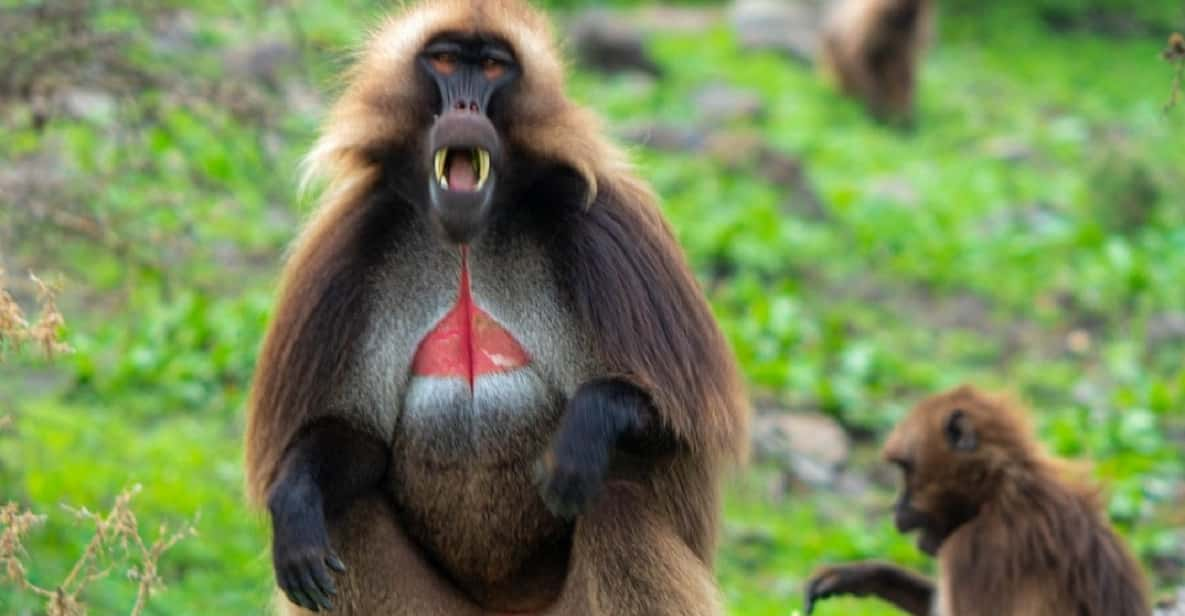 See More Photo In Breathtaking Nature, Wildlife and Cave Church Tour Photo Gallery, CLICK HERE
---
Visit the impressive Debre Libanos Monastery, the famed Portuguese Bridge, the spectacular Blue Nile Gorge, and the haunting Saint Teklehaimanot Cave Church in just one day with an English-speaking guide. Marvel at breathtaking mountain landscapes and endemic wildlife, like bleeding-heart gelada baboons.
After pickup at your hotel or at the airport in Addis Ababa, drive 100 kilometers (68 miles) to the north and pass over undulating mountain ranges that shelter the famous bleeding-heart baboons, as well as various endemic birds. Arrive at Debre Libanos, a monastery complex founded by Ethiopian Saint Abune Tekle Haymanot in 1284 that sits on a terrace between a cliff and the gorge of one of the tributaries to the Blue Nile River (Jamma River).
Then, experience the breathtaking views of the Blue Nile Gorge, often compared with Arizona's Grand Canyon. Admire the Portuguese Bridge, built by Ras Darge in the 1890s in a classic Portuguese style. Enjoy the scenic views, interact with the Oromo people, and trek to the Saint Teklehaimanot Cave Church where around 300 monks were slaughtered in 1936 by Italian invaders.
On the way back to Addis Ababa, make a stop at the Entoto Mountain for panoramic views of Addis Ababa from 3,300 meters (10,827 feet) above sea level. The tour concludes with drop-off at the airport or your hotelFree cancellationDuration 7 hoursLive tour guideSee all details, See all details
---
PRICE :
US$ 99
Check Discount Price :
---
Found Best Price at Your Traveling Date
---
Breathtaking Nature, Wildlife and Cave Church Tour Highlights
Experience monastic life at the Debre Libanos Monastery, founded within a steep riverine canyon in 1284
Marvel at the breathtaking views and landscapes of the Blue Nile Gorge
Take a short hike to the stone-arch Portuguese Bridge
Discover the wildlife around the monastery, including endemic bleeding-heart aboons and birdlife
Breathtaking Nature, Wildlife and Cave Church Tour Reviews
Thanks to Emmanuel for being a great tour guide – I really enjoyed his passion & knowledge – its always great to see tour guides being fascinated by their own country and extending their learnings. I thought the day tour was fun – we got to experience the church, Portuguese bridge, amazing waterfall & a nice Ethiopian lunch all in a short space of time. Driving through the Ethiopian countryside is special as you get to see a lot of what one's day to day is like out in the countryside & how they live life. The only negative, I guess, is that out of the 7 or 8 hour duration of this trip, around 4 hours is burnt in just driving around on extremely hard & bumpy roads which means that while this tour is suitable for those who don't mind the bumps & harshness of the environment, it most certainly isn't suitable for anyone who may have back issues and/or motion sickness.
This was an amazing trip! I would recommend it to anyone visiting Addis Ababa. We had a wonderful time with Emmanual (our guide) and Sammy (our driver). This tour had a little bit of everything (making it a great choice if you do not have much free time) including: stunning views of beautiful landscape, a very well-informed and passionate guide, the chance to taste delicious Ethiopian coffee and food in authentic settings, sightings of baboons in the wild, a visit to a local market, and the chance to get some insight into the daily lives of people living outside of the big city, as we drove through the villages. This is a day I will remember always. I want to add specific mention of Emmanuel, who is an excellent tour guide. He is so passionate about sharing his wealth of knowledge, and this really adds to the authentic feeling of the tour. Thank you Emmanuel and Sammy.
Most Recomended Tour and Activity in Cave Church
Most Recomended Tour and Activity in Ethiopia